The Rt. Rev. Bertram Herlong, the 10th bishop of the Episcopal Diocese of Tennessee, died Oct. 21. He was 77. Current Tennessee Bishop John Bauerschmidt said that day in an e-mail that the death of his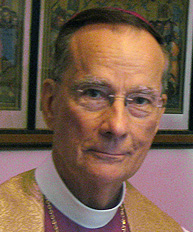 immediate predecessor came "after a very swift decline while under treatment for leukemia." Herlong's wife, Vickie, and daughter, Angela, were with him at the end, Bauerschmidt said.
Funeral services will held Oct. 25 at St. George's Episcopal Church in Nashville, with the burial at St. John's Cemetery, in Mount Pleasant, Tenn.
Herlong was elected as 10th bishop of Tennessee on Jan. 10, 1993, and consecrated on June 26. During his episcopate, the diocese embarked on a program of church planting, especially in the fast-growing suburbs around Nashville. "As a result of his leadership, grounded in the historic faith and practice of the church, Tennessee became the fastest-growing diocese in the Episcopal Church," according to an obituary published by The Tennessean.
Herlong was born in Lake City, Fla., Oct. 16, 1934. He received a bachelor's degree in literature and English in 1956 from the University of Florida and subsequently earned a bachelor of divinity degree from the School of Theology at the University of the South in Sewanee, Tenn. He earned a master of sacred theology degree in 1970 from St. Luke's Seminary, University of the South, and was awarded the doctorate of ministry degree from New York Theological Seminary in 1980. He was later awarded honorary doctor of divinity degrees from Nashotah House Seminary and the University of the South.
He was ordained a deacon and priest in 1960 in the Diocese of Florida and became founding vicar of St. Jude's Church, Valparaiso, and Church of the Epiphany, Crestview. He later served as canon pastor of St. John's Cathedral, Jacksonville, and as founding chaplain and assistant headmaster of Jacksonville Episcopal High School, which is now the Episcopal School of Jacksonville.
Herlong served as associate rector and vicar of Trinity Church Wall Street and St. Paul's Chapel, New York, from 1972-1979. He was a founding member of a hospice at the Beekman Downtown Hospital in Manhattan and founder of St. Margaret's Housing Center for senior citizens.
In 1979, he became dean and rector of the Cathedral Church of St. Paul in Detroit, Mich., where he founded the cathedral school – today named Herlong Cathedral School in his honor – and established two senior citizen housing communities.
"Continuing his focus on community service and outreach, he established a relationship with the Diocese of Ecuador enabling frequent medical and dental missions," the obituary notes.
Herlong is survived by his wife of 54 years, the former Barbara Ann Vickers; two daughters, Angela and Michele; six grandchildren and four great-grandchildren.
The family request that memorials may be made to St. Luke's Community House in Nashville, which Herlong served as a board member, St. George's Episcopal Church or a charity of the donor's choice.